Today Apple announced what's in store for their operating systems and new Apple Music App. At 1:00 PM EST, I had my headphones on and iPad propped up as I tapped away at the keyboard in my cubicle at work - multi-tasking at it's best.
OS X - El Capitan
Let's start with OS X. I have to admit, the name leaves a lot to be desired. This is an absolute love-hate relationship for me. I love the new features but I can't stand the name. I find it to be cheesy and leaving me with images of Jack Sparrow, Captain Morgan, or even worse....some vicious Columbian drug lord.
Putting the atrocious name aside, El Capitan will bring some nice new features to OS X.
• Windows management - Mission control will allow you to view all of your open windows in a nice, clean fashion with a simple swipe.
• Split view - You will be able to view two applications side by side in full screen without having to resize. When you select an app and drag it to the center of the screen, you will see either the left or the right highlight, where you then select which side you want that particular app to be in.
• Website pinning - This feature will allow you to pin sites in safari, where it will show up as a small tab on the upper left hand corner. It is similar to bookmarking a site, but much easier to access. These will more than likely be used for your every day sites.
• Muting - El Capitan will now allow you to mute any tab that automatically starts running any audio in the background without having to go to open that particular tab or fuss with your volume controls.
• Improved Spotlight features - Spotlight will become "smarter" by allowing you to type in a more natural language. Spotlight will understand, search, and display the information you are looking for. You can also ask for weather information, stocks, sports information and results, along with many other numerous searchable information
• Mail swipe - This feature, which already exists in your iOS, will now be available in El Capitan. You will be able to swipe to delete mail or mark them.
Single click adding of events and contacts from mail. When you receive an event invitation, you can add it to your calendar with just one click.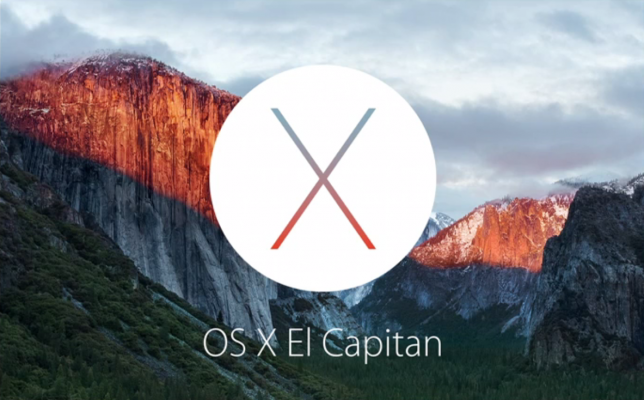 iOS 9 for the iPhone
The main feature that everyone is talking about is Siri. In iOS 9, Siri is to be ore "proactive" and "intelligent" by allowing you to ask her to remind you about events you receive in text messages and emails. You can ask Siri to remind you about things when you get in your car, work, home and she is to recognize when you are at those places. For example - you can say "Siri, remind me to stop for gas when I get in my car" and once you get in your car, you will receive a reminder to stop for gas. This sounds too good to be true, but it is supposed to be a new feature of the iOS 9. I will say, it is quite a difference from the current Siri, which I have had one too many arguments with and am so glad my husband has never thought of recording them. I would be writing this from a padded cell.
Siri is now better integrated with Photos. You are now able to ask Siri to show you specific photos, such as all photos from an event, and the Photos app will open displaying those images.
Another interesting feature of the new iOS 9 is how Siri begins to learn your habits and routines. This may seem creepy to some but quite useful to others. A few examples:
If you are a morning runner, the moment you plug in your headphones it will put on music that you normally run to directly from the lock screen.
If the first thing you do in the morning when you wake up is open a Yoga app and do Yoga, the app will appear on the bottom left corner of your screen and you can swipe up to open it.
If you have certain places you go to throughout the day or people you normally talk or text throughout the day, Siri will make those as Spotlight Suggestions
Phone calls will become much more improved. If you receive a phone call from a telephone number that you do not recognize, iOS 9 will now search your emails and if that number has ever appeared in y our emails, it will suggest who the caller might be.
Because Apple Maps has now gotten smarter as well, whenever you have an event on your calendar, it will suggest a time that you should leave by based on traffic data. Maps for iOS 9 will also include Transit information, as OS X El Capitan will.
A less exciting feature that will come new with iOS 9 is a new app called News. This app will be added to your home screen and, as I assume will be the case with this as is with the other forced upon Apple apps, you will not be able to delete this. This app combines news from various sources and topics that are of interest to you and displays it all in one place. Here's the issue I have with this....it's NOT new nor is it innovative. I currently run this on my phone with an app called SmartNews. Not to be a negative Nancy, but compare and you will see that it is exactly the same thing. Sorry Apple, you are a day late and a dollar short on this one.
Some changes will also be coming to Apple Pay. For starters, what is now PassBook will be renamed to Wallet. I think the name is more fitting for the features that are to come.
Discover has now joined Apple Pay
You now have the ability to add merchant reward cards
Store issued credit cards and debit cards can now be added to Apple Pay
Apple Pay has partnered with Square to offer a card reader to small business owners that will be NFC ready and able to accept Apple Pay. Merchants can register to receive the new "Contactless + Chip Reader" that will ship in the fall. The new reader runs on a better that can be either placed in a hub or charged and connected wirelessly.
Apple Pay will now be available in the UK starting in July and will be available at more than 250,000 merchants, including London Transport. How cool is that???
iOS 9 for iPad
Although I am extremely excited about the new iPad features, I was left a bit disappointed that they did not announce a new iPad. I really had my heart set on an iPad Pro and feel that these features would fit such an iPad beautifully. The new features for iPad are mostly centered around Multitasking.
Slide Over - iOS 9 will allow you to open a second app without leaving the one you are in.
Split view - This feature will allow you to have two apps open at the same time on a side to side view much like OS X El Capitan will feature. This will only be available for the iPad Air 2
Picture in Picture -If you are on FaceTime or watching a video, this feature will allow you to scale down that app towards the corner of the screen and allow you to open and work within a second app without interrupting your video or FaceTime.
QuickType - The keyboard will now have shortcuts on the bar for copying, pasting, and, attaching files.
Watch OS2
Only 6 weeks into its release and Apple announced today that it will have a new OS for the Apple Watch. OS2 is certainly exciting, especially since I have found the watch lacking in some features that they seem to have addressed.
New watch faces - You will be able to create your own watch face using your own pictures. You can choose between having just one picture as your watch tae or create an album that changes each time you raise your arm to look at your watch. Also, you will have the option of choosing already pre-made faces of time lapsed images of Hong Kong, London, Mack Lake, New York, and Shanghai
Complications - Now, you will have more options in complications. You will be able to add data from app stores to complications such as flight times or information about the battery life in your car.
Time Travel - Time travel will allow you to use the digital crown to scroll forwards in time to see what weather conditions will be like, any planned activities, or what the battery life will be like in your car. You also have the capability to scroll backwards as well.
Nightstand mode - You will now be able to use our watch as an alarm clock. I have to admit that this one does not impress me at all.
You will no be able to directly reply to emails from your watch from either preset responses or dictation.
Add friends directly from your watch. You will no longer be limited to just the current 12
Sketches can now be multi colored as opposed to how it currently only allows you to use one color. I just hope that the image stays on the screen longer than it does ow; at least long enough to change the colors and finish my drawing
Siri will have more capabilities on the watch, including the ability to work with HomeKit. That is very good news!
Finally, the best news of all is that apps will run natively on the watch, eliminating the current lag time people are encountering with their watch. Also,
Apple also announced a new streaming service that will be released on 6/30/2015. Stay tuned for more information regarding Apple Music in my blog tomorrow.