Earlier this month, I reported on the U+; a portable, convenient, and wireless storage device packing an impressive amount of features in an easy to carry package. The team at BWA received an impressive welcome to it's Kickstarter campaign, but several questioned its storage capacity and expressed a desire to see options for greater storage.
As I described in my previous article, U+: The Perfect All-In-One Storage Solution in One Small and Compact Device, U+ is a device that allows you to store, access, and stream video, music, photos, and files wirelessly without the need to use data or plug anything in to your computer. U+ allows up to 5 people to simultaneously stream any content stored on the device from their smartphone, tablet, computer, or laptop via its dedicated app. U+ also has the capability to sync with media files in iTunes.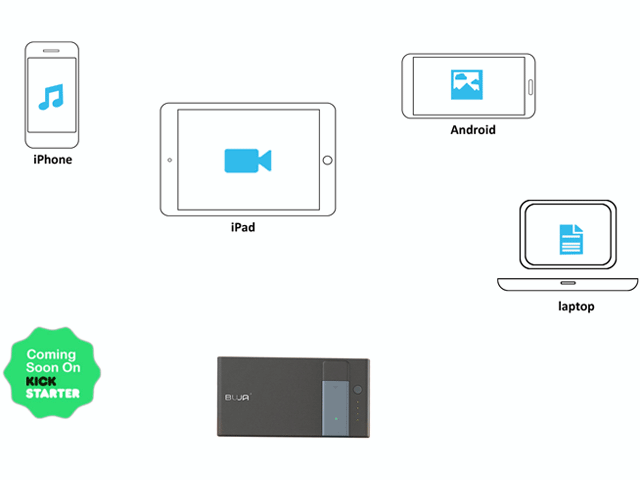 The BWA team has listened to their customers and I am thrilled to say, U+ is now being offered with 4 storage options: 16G, 32G, 64G, and 128G. The news came less than a week after release and already many have upgraded their pledge to the buffed up storage options. This upgrade in storage comes along with many other robust features and design:
iOS & Android App
Selfie Button Shutter
20 hours of standby
weighs 4.6 ounces
Qualcomm CPU
Samsung RAM
High Speed Flash Memory
Support for the following file formats

Image: JPG, JPEG, BMP, GIF
Music: MP3, WMA, WAV, ACC< FLAC
Video: MP4, MOV, AVI, RM, RMVB, 3GP, MKV, FLV, F4V, WMV
File: DOC, DOCX, LS, XLSX, PPT, PPTX, PDF, TXT
Pricing is a follows:
$59 - Earliest Bird 16G
$69 - Earliest Bird 32G
$89 - Earliest Bird 64G
$119 - Earliest Bird 128G
$113 - Earliest Bird Double Pack 16G
$133 - Earliest Bird Double Pack 32G
$123 - Earliest Bird Double Pack Mix 16G & 32G
$69 - Early Bird 16G
$79 - Early Bird 32G
$99 - Early Bird 64G
$129 - Early Bird 128G
$133 - Early Bird Double Pack 16G
$153 - Early Bird Double Pack 32G
$143 - Early Bird Double Pack Mix 16G & 32G
As of this article, U+ has reached $19,163 of their $30,000 goal with 39 days to go. You can support and purchase your U+ at their Kickstarter Page. U+ is scheduled to go into mass production November of 2015 and is scheduled to ship in December of 2015.